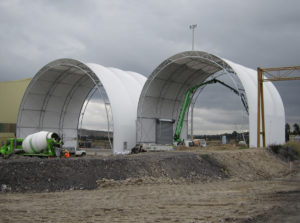 Supa-Span Series
The Supa-Span series fabric structures feature clear span, column-free designs for short-term, interim or permanent installations.The combination of the framing & panel tensioning systems allows speedy installation and relocation.
Fabric Structure Solutions
Manufactured using high grade structural steel, Supa-Span designs are fabricated into two chord lace truss systems available in either straight, curved, igloo (below), tall or arched profiles.
Supa-Span Options
Design options can incorporate higher peak or eave heights, lightweight or hard walling systems, specialised fabric, doors, windows, lighting, air tight environments, conveyor and HVAC systems.
.
Applications
Supa-Spans are perfectly suited for temporary or permanent applications in: